Hello, again. So, I know I promised pictures from the birth of Logan. Well, the pictures are on Ted's laptop (my CD drive is broken on mine...almost everything is broken on mine) and I haven't had a chance to get them off of it yet. BUT, yesterday I made some Valentines for the boys to take to school. I saw the idea for these on Pinterest and then followed the link to this cool blog,
a small snippet
. You can print off the ones she has made, I really liked them but wanted to try to make my own with photoshop elements. I love how mine turned out and have decided to share them with you! Please enjoy for your own personal use, and give credit where credit is due.
Here is Landon's Valentines (I will update with the finished product, with the actual pop rocks candy and the tag folded in half once I go and buy 50 pop rocks!). He needs to write the name of his classmates on his, which he will do in the green dot area.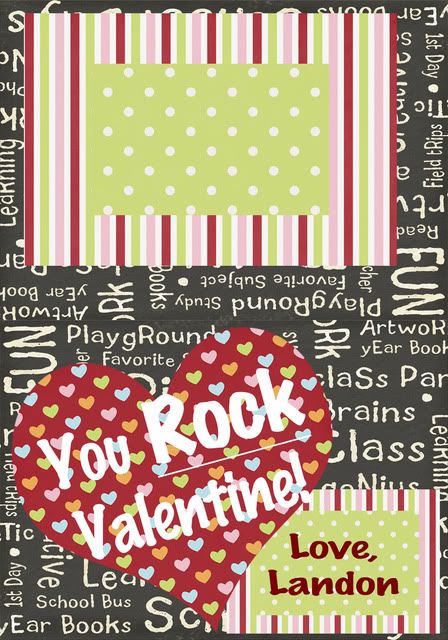 Trevor's I made different, because his teachers requested that the students not write the names of his classmates but instead he should practice writing his name. He will write his name in the green dot area, under the Love, . These are the Valentines that I am sharing with you! You can click on the picture to download a pdf file. Let me know if you have problems, this is the first time I have added a pdf file to share and I am not all that tech savy.
Clicking on the picture will (should!) automatically download the pdf file for you, or you can click
HERE
to be promted to download the file.