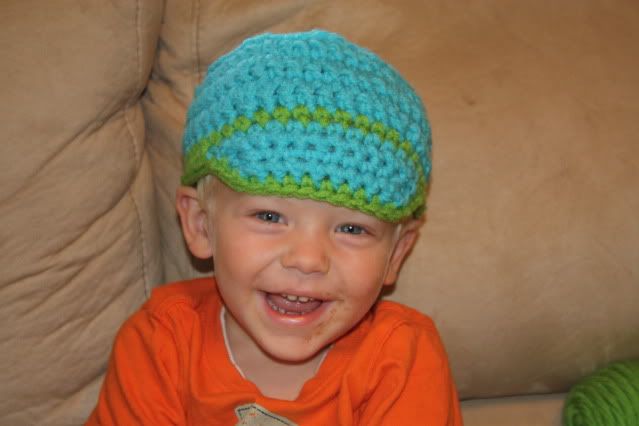 Besides the pants for Ethan a few weeks back, I haven't made too much for the boys. I decided to make a few things for each of them as my next projects, and the first thing that I made was a crocheted hat. I searched ravelry for things to knit or crochet for boys, and
this hat
looked like the easiest/quickest. It was really quick (only took me 1 hour), and used a small amount of yarn. The pattern called for a size L hook, but I crochet and knit larger so I went down to a K and it came out great. If you know how to crochet and want to make one, the pattern is called
Daddy & Me Field Caps
on Ravelry.
Next I might try my hand at a hoody? Speaking of
Ravelry
, if you knit and/or crochet and have not been on this site you NEED to head over there (and be prepared to search for hours through all of the patterns they have, lots of them free!). It is a huge wealth of information and patterns, I love love love this site!
This hat fit Ethan perfect and just fits Trevor, and it does fit Landon but I think I would add one more row for him and Trevor when I make it again. Here are a few pictures, always goof balls:)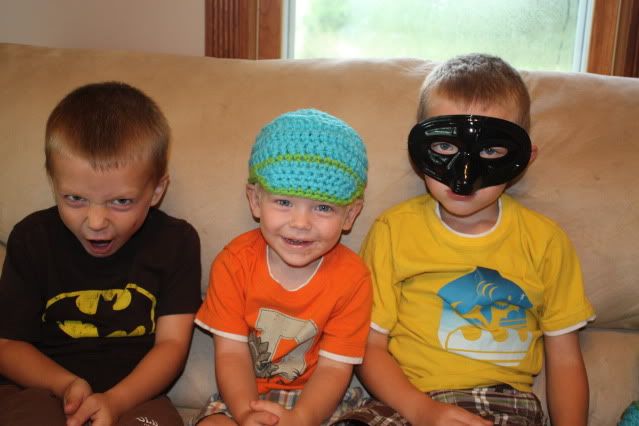 We decorated some masks this morning, but Landon wanted to leave one of his just like it came. And, yes, he has worn it ALL morning!