This was so good, and very filling! If you haven't had quinoa (pronounced Keen-wah), give it a try. It is called a grain, but really it is a seed from a plant kind of like spinach. It has taste similarities to brown rice, but it is packed with protein and is so good cold or hot, with vegetables or in a desert, or just on it's own.
Vegetables, garlic, herbs and spices, and tofu (quinoa and pasta is already on the stove)
Just before adding the tofu in and eating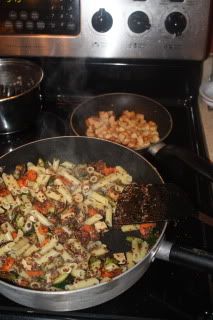 This is not hard to make, just takes a bit of prep work and then goes together fast (I think from start to eating it was about 40 minutes).
Ingredients:
1 cup quinoa

1/2 lb extra firm tofu

1/2 tsp garlic salt

1 Tb soy sauce

1/4 cup cashew pieces (I omitted)

2-3 Tb. olive oil

1 garlic clove, minced

1 Tb minced fresh ginger (I buy this in a tube for when I don't have it fresh)

1/4 cup chopped black olives (I omitted)

1 medium carrot (I did 2)

2 stalks celery (I used asparagus instead)

1 zucchini

1 bay leaf

1/4 tsp dried rosemary leaf

1 tsp dried basil leaf

1 tsp ground coriander

1/2 tsp powdered fennel (omitted)
Directions:
Prepare quinoa as directed, and set aside (about 15-20 minutes to cook)
Cut tofu into bite sized cubes, place in a bowl, sprinkle with garlic salt and soy sauce and stir to coat with marinade. Set aside
Mince ginger and garlic. Prepare vegetables; chop asparagus (or celery) into small pieces, peel and chop carrots into 1/2" dice, wash trim and chop zucchini into 1" dice (coarsely chop olives and set aside if using)
Heat olive oil in a large saute pan on medium heat, stir fry ginger, garlic, asparagus (or celery), and carrots for 5 minutes.
Add zucchini and stir fry another 5 minutes.
Stir in dry spices, herbs
Meanwhile, fry the tofu cubes on medium, stirring and turning, until browned.
Stir tofu and quinoa into the vegetable mix (and olives if wanted). I also added gluten free penne pasta to this dish. If adding pasta, prepare while you prepare the quinoa and set aside, adding it in right at the end.