I haven't really talked too much about how I have been doing, and have kind of backed away from my blog a bit. Not really intentionally, but mostly because I just haven't been feeling that great. Don't start feeling too bad for me now, because the reason I haven't been feeling good is because I got pregnant right away after the last miscarriage. Never thought I would be pregnant two times in one month, talk about hormone overload! That was back in January, and now it is almost April. I am happy to say that at six weeks I had an ultrasound to date the pregnancy (because I never had a menstrual cycle, so I didn't have an LMP to date this pregnancy), and I got to hear the heartbeat through the ultrasound. It was beating away at 121 bpm, and to say I felt relieved would be an understatement. All day sickness hit hard right at 6 weeks, which I never really had with my three boys, and then seemed to let up through week seven, back on again week 8 but not so bad. Now as I am approaching week 10 (I will be 10 weeks tomorrow), I am doing pretty good as far as the sickies go but not sleeping the best.
Last week a friend sent me her doppler to borrow, and the first couple of times I could pick up the placenta but I couldn't find the heartbeat. I actually wasn't too worried (weird for me!), because I knew it was really early. I tried again the third day and found it nice and strong, galloping away at 175bpm! I couldn't find it the next day, but then found it again the day after with the same 175 bpm. I haven't checked in a few days, but I am sure I will soon! What was really neat about hearing the heartbeat, was that we (Ted, Landon, Trevor, and Ethan) were all sitting together on the couch and all heard it together for the first time. Landon and Trevor loved it, Ethan just wanted me to do it to him.
We have told our immediate family and some close friends, and I guess now the rest of the world! I understand that announcing a fourth baby is not as exciting, but there is something about this pregnancy that is extra special and extra exciting for Ted and me. First of all, it was a crazy roller coaster of the joy of getting pregnant and the sorrow of loosing that pregnancy. Twice. But, what really makes this pregnancy exciting for Ted and me is that this will be our last baby. It is a final chapter in a book that has been ongoing for almost six years now. I thought I would be very sad knowing that there would never be another pregnancy, and never another baby. I am not sad at all, this feels so right and makes me so happy. We can really start planning for the future, and that is very exciting. October is going to be a very special month!!!
Why in the heck would we tell so early, I mean I am only 10 weeks. Uhhmmm, I show crazy fast! With Landon I was normal, not really showing much that others could tell until like 16-18 weeks. With Trevor, I looked about 20 weeks by only 12. With Ethan I had a little bump already at 9 weeks, noticeable enough for comments. This time I was noticeable bigger by 7 weeks, but hid it under sweatshirts (which I am still doing for the most part). Let's just say I tend to get the twins comment quite a bit, nope just one folks. To end this post, I have to add pictures of course:)
The first set of test (yes, I am addicted to these things!)
The second set of test (told you, ADDICTED!)
8 weeks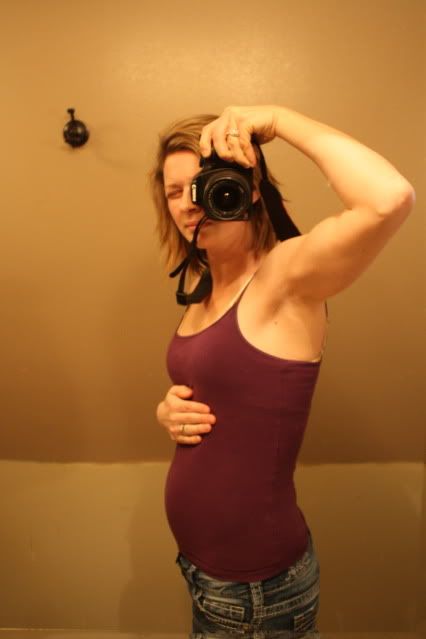 9wks