For the last three years or so (my memory, or lack there of, I blame on motherhood) my mother in law, Lois, has treated me and brought me along with her to pick out annuals for hanging baskets and planters as a Mother's day gift. We travel about an hour to a Mennonite community that has greenhouses full of BEAUTIFUL flowers. The two places that we stop are Hoover's Greenhouse and Deerfield Greenhouse. Lois and I headed that way early this morning and I once again came home with so many many many flowers! We are also putting in a large shade garden this year and I was able to find some great perennials to start this garden. If you are in the area make your way to Hoover and Deerfield! Huge, beautiful hanging baskets for $35...and I mean HUGE and BEAUTIFUL. The first year I bought two of these handing baskets, and then kept the baskets so following years I just buy new flowers and fill them myself. On the way home we stopped out at Pinter's (need to check that spelling), that is just outside of Decorah. WOW! Make a trip out there, so very worth it. They have so much out there, from great structures and sculptures for your gardens, tons of perennials, vegetable plants, annuals, to a really nice gift shop and bakery with lots of fudge. I did not try the fudge, but it did look amazing! I can never stop with one bight of fudge, so best to not even try it for me!
On a side note, I found this cool purple basil plant. I wonder what my pesto will look like with this??
Here are my flowers! Before I planted them, I organized them by color and then decide what I wanted to go where from there. Of course I had helpers, so they didn't stay that organized for very long but it did help me see what color schemes I wanted to do and how much of each color I had to do it.
All organized by color in my flats
Greens
White & Blue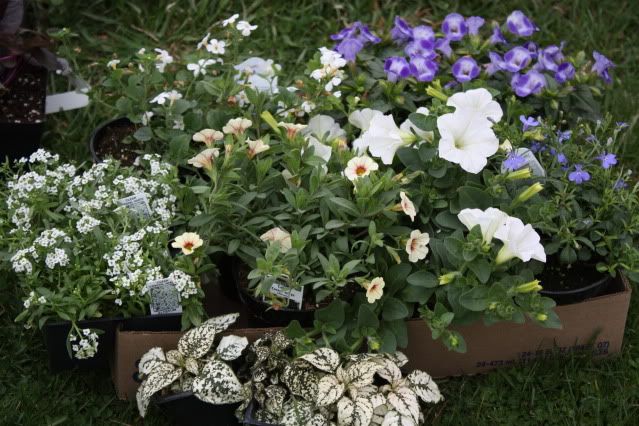 Purple
Pink
Orange & Yellow
Here they are all potted in my 3 hanging baskets and 3 planters